For 27 years, Dr. Rick McGuire served as the head track and field coach at the University of Missouri. Under his tutelage, the Tigers track and field program produced 137 All-Americans, 106 Conference Champions, 46 U.S. Olympic Trials qualifiers, 27 U.S.A. National Track and Field Team members, seven NCAA Champions, eight NCAA Regional Champions, three NCAA collegiate record holders and two conference Athletes of the Year.
If those accolades weren't enough, McGuire also played a crucial role into the mentoring of two Olympic Silver Medalists, four World Championship Gold and Silver medalists and three Pan-American Games Gold Medalists.
With his outstanding coaching career now behind him, McGuire has continued to make an ever lasting impact on student-athletes at the University of Missouri. As a renowned instructor and lecturer, McGuire has moved his attention towards a new venture in his professional career, and while his office has changed, the beneficiaries of his work hasn't.
The Father of Sport Psychology
Led by McGuire and the University of Missouri sport psychology department, the newly minted "Missouri Institute for Positive Coaching" has begun making strides not only within Mizzou Athletics but also in athletics programs across the entire nation.
According to McGuire, positive coaching is all about teaching and allowing athletes to prepare better, perform better, achieve more, experience personal excellence, and to be prouder, happier, healthier and more fulfilled for their investment and efforts, and thus motivated to come back and do more.
Furthermore, a positive coach must possess 14 essential qualities in their practices. They include teaching, guiding, encouraging, building, believing, caring, sharing, giving, forgiving, expecting, respecting, modeling, serving, and inspiring the student-athletes they interact with every day.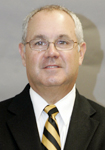 While McGuire and his staff continue to spread the word of positive coaching across each program in Mizzou Athletics, many head coaches had already implemented several of these principles towards their student-athletes in the past. With the increased promotion of the positive coaching culture at Mizzou, these select coaches' practices have been brought closer to the forefront.
Mizzou wrestling head coach Brian Smith, women's volleyball head coach Wayne Kreklow and women's tennis head coach Sasha Schmid have each expressed their gratitude towards Dr. McGuire in becoming the positive coach they have evolved into today. For each of the three outstanding Mizzou Athletics' head coaches, the stories are endless on how their teachings have affected hundreds of student-athletes over their coaching tenures.
The "Little Things" Of Coaching
With his 17th year at the helm of Mizzou wrestling underway, head coach Brian Smith has impacted the lives of hundreds of Tiger grapplers. Not only has Smith coached 55 All-Americans and five National Champions while in Columbia, Mo., but the lessons he has taught to his student-athletes' personal lives are everlasting.

Smith began his wrestling coaching career in 1992 as an assistant coach at Cornell University. After a four year stint with the Big Red, the Fort Lauderdale, Fla., native then moved onto lead the Syracuse wrestling program for one season. Beginning with the 1998-99 season, Smith took over the reins of Mizzou wrestling and forever changed the landscape of the program.
While the coaching (three time conference Coach of the Year honors) and team accolades might stand out the most to the average fan, the behind-the-scenes efforts from Smith and his coaching staff arguably mean the most.
In the beginning of his coaching career, Smith adopted a similar coaching style to that of his father's beliefs. He could be summed up as a loud, demanding and intimidating figure to his student-athletes. As the years went on and the success on the mat continued to reach never before seen heights by Mizzou wrestling fans, coach Smith began to showcase a new way to reach his roster of young men.
Henceforth, the new "Tiger Style" motto inspired by coach Smith for Mizzou wrestling was born. Before reaching the ultimate Tiger Style status, one must believe, compete and expect to win every time out on the mat. Corresponding with the beliefs of Dr. McGuire's Institute of Positive Coaching, Smith believed that his athletes must consistently possess confidence, focus and positive thoughts during training and competition.
With the new positive mindset in place, Smith witnessed unprecedented success from not only his wrestlers but also himself.
As each year as the head of Mizzou wrestling goes by, Smith often reflects on all the "little things" that he has noticed over the years from coaching 18-22 year-olds at the collegiate level. More and more, the veteran coach realizes that the act of coaching is so much more than the wins and losses.
"I have athletes whose parents have cancer right now, parents who are going through a divorce or other various real life challenges," Smith said. "Those are the things that I think I'm really there for as their coach. It's not about the X's and O's and the things we think sports is all about, but rather more importantly it's what you can do for the kid in between the ears."
Early on, Smith knew that coaching would be his calling card. After finishing his collegiate wrestling career at Michigan State from 1986-90, the three-time All-Big Ten competitor then transitioned towards the next step in his professional career.
"It's really important to find your passion in life," Smith said. "All I've ever wanted to do is coach. I love what I do. You have to find that thing that you love and show the audience, in this case my wrestlers, your passion for it. A coach, I think, is the most influential person in society today."
Another one of the "little things" that coach Smith emphasizes is building relationships with your student-athletes. Each summer, Smith and Mizzou wrestling host the Tiger Style wrestling camps for hundreds of eager future grapplers. Building relationships with his own Mizzou wrestlers would prove to be influential down the road at events like the summer camp.
"This year at our Tiger Style wrestling camp, the first thing we did was not wrestle but build relationships," Smith recalled. "I wanted the kids to get to know each other first by team building games. One of our current wrestlers, Drake Houdashelt, gave every camper a nickname and the kids felt awesome. The kids grew a connection with our guys, and it was all about developing relationships first."
You have to find that thing that you love and show the audience, in this case my wrestlers, your passion for it. A coach, I think, is the most influential person in society today.

Brian Smith
Smith earned his 200th win at Mizzou on November 15th vs. Truman State. As one of the longest-tenured coaches inside Mizzou Athletics, it is no secret that Smith's teaching techniques both on-and-off the wrestling mat have been life changing. Not only has the Tiger wrestling program developed into one of the nation's finest programs, but Smith has positively impacted the lives of hundreds of young men as they begin their life after collegiate athletics.
What Motivates You To Become Your Personal Best?
Mizzou women's volleyball head coach Wayne Kreklow took over control of the program beginning with the 2005 season. With his wife Susan along his side as the director of volleyball, the duo have built one of the nation's finest volleyball programs. The team accolades include 10 NCAA Tournament appearances, one Elite Eight, two Sweet 16s, 12 winning seasons, and an average of 20 wins per season.

After Mizzou Athletics' transition to their new home inside the Southeastern Conference (SEC), Kreklow and the women's volleyball team became the first Tiger program to claim a SEC Championship. Mizzou became the first SEC team ever to finish a regular season unblemished after their perfect 34-0 record.
The 2013 Mizzou women's volleyball team will forever be enshrined in Mizzou Athletics history. While the physical talent on the roster was clearly present with four Tigers named AVCA All-Americans part of a program that just this week was recognized by USA Today as one of the six best in the country to play volleyball, the day-to-day coaching job by Kreklow and his staff was the secret ingredient to the team's breakout campaign.
With help of Dr. McGuire and the Missouri Institute for Positive Coaching, Kreklow and his staff teach their young student-athletes vital lessons each and every day on and off the court. Of the seven principles of positive coaching according to Dr. McGuire, Kreklow particularly goes back to number four, which states that a coach must empower growth mindsets with their athletes.
Kreklow notes that some coaches are motivated by wanting to prove others wrong, while other coaches may simply want to be liked and respected by their peers. In Kreklow's personal case, he believes that his motivation is a mixture of several things.
For example, during his late 1970's playing days for the Drake University men's basketball team, Kreklow recalled that he wanted to make people happy.
For both coaches and athletes, motivation plays a crucial role into your daily performance. In the case of coach Kreklow, he often asks himself, "What motivates me to be the best I can every day?"
"I wanted my coach to like me, and I wanted my coach to think that I was good," Kreklow said. "That is what always motivated me. It was not necessarily winning, but rather if my coach was happy or not. That is what made me go in practice and games."
Following his collegiate career at Drake University, Kreklow played professionally with the NBA World Champion Boston Celtics for the 1980-81 season. During that experience with the Celtics, Kreklow encountered many coaching examples that would lead to some of his own different coaching tactics today.
As one of the Celtics' reserve players that 1980-81 season, Kreklow often went unnoticed by the team's coaching staff. Whether that or the head coach ignoring him outside of the basketball court, Kreklow now looks back on those examples and realizes that he knows what it's like to be "that" person on any given athletic team.
In short, the negative coaching tactics that he experienced during his playing days have resulted in the positive coaching techniques that he practices today with the Mizzou women's volleyball team. With his personal motivators set, the ability to convert those similar beliefs into his student-athletes is an important piece into building a successful team.
"The value of keeping your kids together and the importance of team cohesiveness is crucial," Kreklow said. "Every week we have individual meetings with our players and the point of them was to not talk about volleyball, but rather other stuff in their lives. We wanted to find out how they were doing, how their parents were doing, how classes were going, and how they were doing as a person. I was stunned with how much they loved it. They all felt that it was a really positive step in team building."
Every week we have individual meetings with our players and the point of them was to not talk about volleyball, but rather other stuff in their lives. I was stunned with how much they loved it.

Wayne Kreklow
For each of the volleyball student-athletes this new tactic of meeting with the players one-on-one and going deeper into their personal lives helped build stronger relationships with the coaches and increased a feeling of being wanted and needed by their peers.
"It made a huge difference with those kids who were in a similar position like mine in the past," Kreklow stated. "It played a big role on our team last year and helped everybody get on the same page."
Similar to Smith's belief in building relationships with his student-athletes, Kreklow realizes the importance of growing closer with every single member of his roster. As he experienced first-hand as a player over 30 years ago, the teachings and actions by one's head coach can impact both the mental and physical performance of the student-athlete.
Like Smith, Kreklow also earned his 200th win as the head coach of Mizzou women's volleyball this season. Throughout his tenure in Columbia, the hundreds of Tigers to compete under Kreklow's watch had grown both as a competitor and as a human being. With the memories of his own playing days constantly in the back of his mind, Kreklow continues to positively impact and connect to the lives of young women even to this day.
Building A Positive Culture Throughout The Program
The positive-coaching culture across Mizzou Athletics has made a special impact down at the newly opened Mizzou Tennis Center (MTC). Inside, Mizzou women's tennis head coach Sasha Schmid and her student-athletes conduct activities that increase the positive attitude throughout each member of the program.
After a successful 10-year run as the head coach at Stetson University, Schmid has brought a new sense of encouragement and excitement to the Mizzou tennis program.

If you happen to make it down to the MTC on any given day, you will be immediately greeted by a smiling and energetic coach Schmid. As the leader of the women's tennis program, the actions and personality she conveys trickles down to her roster, and her fellow staff members.
Schmid has also shown making a positive impact works regardless of the squad's size; tennis is one of the smaller sports around.
"I don't even think we are conscious of this but when I think about it, I really think we all look forward to seeing each other each day," Schmid said. "I really enjoy my staff and players as people. I love my job and we are a happy group of people, grateful for each other, and all wanting to work hard to improve each day."
Coach Schmid's positive culture at the MTC surrounds the program with the help of her staff, including Jason Potthoff (Assistant Coach), Madeline Kennedy (Director of Tennis Operations), Katie McLean (Mental Performance), Molly Mugge (Athletic Trainer), and Kalyn Sticher (Strength & Conditioning); the Tiger student-athletes are constantly around positive figures.
When coaching young adults, the athletic and real-life challenges come to surface almost on a daily basis. With the help of her support staff, Schmid can effectively reach her student-athletes in a positive manner no matter how difficult the situation.
"No doubt we have real life, tough situations to confront and address often," Schmid said. "The players are growing during a transformational part of their life, ages 18-22 years old. Every day we will have a situation that gives us an opportunity to learn and address positively and productively. As a staff we communicate a lot, and make sure we all have updated information and knowledge on all aspects of the team. Then it takes lots of communication with the players. Communicating over and over again."
Before this season began, the Tiger coaching and support staff met with the student-athletes to discuss a team motto for the upcoming year. Largely up to the girls themselves, the 2014-15 women's tennis team selected the "B.O.L.D." motto that would be spread across the program. The newly minted team motto (Believe, Own, Love, and Dig) was yet another example of how the team used a positive mindset to come together as one.
"The team's 'BOLD' motto has been terrific for us," Schmid exclaimed. "Most importantly, it is their motto, and one they developed on their own. I think it gives all of us a daily reminder of the core values of our team, and it hold us accountable to those values. It is also a great tool to keep all of us focused on the process of improving and staying true to what is important; Believing in ourselves, Owning this opportunity, Loving each other, and Digging through the challenges."
Along with many of her fellow head coaches across Mizzou Athletics, coach Schmid often stems much of her day-to-day teachings to Dr. McGuire's "Principles of Positive Coaching". Number two (build the foundation) and number five (inspire passionate hearts) of McGuire's principles particularly stand out for Schmid and her staff.
"I love building teams and programs, and I feel very fortunate to have had that opportunity here at Missouri," Schmid said. "I have a vision of what I know this program will become and I love working towards that vision every day. We need strong player-coach, player-staff and player-player relationships as our foundation. And we work hard on keeping those relationships healthy and positive every day."
I have a vision of what I know this program will become and I love working towards that vision every day. We need strong player-coach, player-staff and player-player relationships as our foundation, And we work hard on keeping those relationships healthy and positive every day.

Sasha Schmid
"Then we needed to build a culture of values that will allow us to work toward excellence every day. Bringing players into this program who represent our team values has been key for our team. We have a wonderful group of young women on this team who work hard to live the Mizzou Tennis values every day. The best part is that we get to go out and compete against the very best college tennis teams in the nation as a member of the SEC Tennis Conference."
Early on for the Mizzou women's tennis team, the positive culture and sense of togetherness have paid dividends as the Tigers have put together successful outings at their Fall 2014 tournaments. With a mix of one senior (Alex Clark), two transfers (Beatriz Machado Santos and Brittany Lashway), one freshman (Brianna Lashway), and three other returning players (Kelli Hine, Madison Rhyner and Cassidy Spearman) this season, the willingness to come together and accept coach Schmid's positive culture will continue to bring both intrinsic and extrinsic rewards.
Sport Psych: The Secret Weapon Of Positive Coaches
Another important piece of Mizzou Athletics' push towards a positive-coaching culture is the influence of the sport psychology department. Dr. McGuire notes that positive coaching is in fact an application of sport psychology, and the work being done by the department's mental performance coaches reflect the principles of positive coaching.
Inside the sport psychology department for Mizzou Athletics, this group of skilled individuals work with the hundreds of student-athletes on a daily basis. Activities may include one-on-one meetings with the athletes, or group discussions with specific sports programs.

A mental performance coach is assigned to each of the 18 varsity athletic programs at the University of Missouri. Over the past several years, Dr. Scotta Morton has primarily worked with Mizzou's women's gymnastics, volleyball, basketball and softball teams.
For any student-athlete in collegiate athletics, the physical abilities they possess often play a large role in their success on the playing surface. While the physical component of an athlete is undoubtedly vital, Mizzou's mental performance coaches aim to improve their collection of athletes' mental abilities as well.
Morton, along with her fellow mental performance coaches, define the practice of sport psychology in four simple words: "Thinking right in sport."
Beginning in the summer offseason months, Morton and her staff begin to push effective activities for the Tiger student-athletes.
"Summer is an optimal time to implement our sport psychology services to our athletes," Morton said. "With a less demanding schedule, athletes have more time and energy to devote to the mental training and team building that is critical to high performance excellence."
Getting to the athletes early on in their development and building a positive mindset often results in the future desired results.
"We believe in a 'build it' model over a 'fix it' model," Morton stressed. "We build important personal resources now so we don't have to fix them later. In the heat of the moment and when the game is on the line, our athletes are equipped with the mental skills to take control of the moment; 'think right' and deliver their best. Our comprehensive and integrated sport psychology program is just another ingredient to strengthening the foundation for strong individuals and teams both in the off-season and during their respective season."
In the heat of the moment and when the game is on the line, our athletes are equipped with the mental skills to take control of the moment; 'think right' and deliver their best.

Dr. Scotta Morton
With the help of Morton and her extensive sport psychology training, programs like Mizzou volleyball continue to enhance both their physical and mental performance. This past year, the Tigers claimed the first ever SEC Championship for the University of Missouri, as they finished the regular season unbeaten at 34-0 and 18-0 in SEC play. Under 2013 SEC Coach of the Year, Wayne Kreklow, Mizzou became the first ever SEC women's volleyball team to run the table with an unblemished record.
"The skills of 'thinking right' live within a team when each athlete takes ownership over their personal development," Morton said. "As a mental performance coach, I help facilitate individual and shared meaning, but it's the athletes themselves who are the experts of their experiences. Last year's championship volleyball team created a vision early on and they emphasized and nurtured this vision every day."
How To Strengthen One's Mental Performance
Every Wednesday night inside the Mizzou Tennis Center, members of the Mizzou tennis team join the program's mental performance coach, Katie McLean, for activities to strengthen each student-athletes well-being.
McLean joined Mizzou Athletics in the Fall of 2011 as a sport psychology intern under Director of Sport Psychology, Dr. Rick McGuire. The past two years, McLean was a graduate assistant with Mizzou's Total Person Program under the guidance of Associate Athletic Director of Student-Athlete Development, Kim Lambert.

With her recent transition to mental performance, McLean has been assigned to the women's tennis team for the 2014-15 season. On this night, Brittany Lashway, Brianna Lashway, Beatriz Machado Santos, Cassidy Spearman, and Kelli Hine joined McLean for an array of team building activities.
Before beginning Wednesday night's activities, McLean briefly described the goals of her team building sessions.
"Tonight, we're going to be talking about communication," McLean said. "The last few weeks have been focused around team cohesion and the team's 'BOLD' motto which stands for Believe, Own, Love, and Dig. A lot of our team's workshops will be centered on the BOLD motto this season."
The session began with the team quote of the week, which is supplied by a different Mizzou tennis player each week. On this go around, sophomore Brittany Lashway provided a quote that related both to the tennis team's goals and everyone's personal lives.
The group then transitioned into a set of games with the first being a basic icebreaker session. Before arriving to the Mizzou Tennis Center, McLean jotted down random names onto pieces of paper which would then be taped onto the back of each Mizzou tennis player. Going around the table, each Tigers player would stand up (not knowing what person was written on their back) and ask basic yes or no questions to their teammates in order to find the hidden identity.
Up next was the " Park It Box" which teaches the athletes to be aware of what's going on in their minds. In general, each individual must stay focused on the task at-hand. If there is a distraction that pops up throughout their day then they write it down and place it inside the box.
McLean utilizes activities like these to not only create a fun atmosphere, but to also help build the team comradery.
"When you think right then you can perform to your best ability. Every coach at Mizzou wants their student-athletes to show up on game day and perform their best. We use activities like this to help with the mental edge."

Katie McLean
"We sum it up as 'thinking right in sport'," McLean said.
Throughout all of the varsity athletic programs at the University of Missouri, each sport is assigned at least one mental performance coach. With a representative in place, the message from the Mizzou sport psychology department can then be properly implemented.
"In Mizzou sport psychology, we sum up as a comprehensive and integrated program where our entire athletics department is speaking the same language," McLean said. "Whether it's academics, athletic training, or strength and conditioning, we're all on the same page."
For Mizzou tennis, their particular message has centered on improving their well-being.
"During the summer because we had a lot of new girls joining the team, we did a lot of activities in positive psychology," McLean said. "A lot of those days were built around positive psychology interventions meant to increase well-being. The meaning behind that was flourishing people making flourishing athletes. If you're having optimal well-being then you're going to have optimal performance."
Mizzou tennis has effectively used McLean's emphasis on personal well-being early on in their Fall 2014 season. The Tigers won two-thirds of their matches at the Mizzou Invite in Kansas City, Mo. in mid-September and followed that up with a successful weekend in Athens, Ga. for the Bulldog Tennis Classic.
As the team wraps up their fall campaign and moves their focus towards Spring 2015 play, head coach Sasha Schmid and her roster of Tigers will surely be prepared for both the on the court and off the court obstacles that await thanks to the effective guidance from McLean.
The Future Of Positive Coaching
The above stories are just a small glimpse of the team effort being done by Mizzou Athletics in their quest to building and sharing the world of positive coaching. Beginning with the program's inception by Dr. McGuire and Director of Athletics, Mike Alden, the Missouri Institute for Positive Coaching has had a vision to promote positive coaching in sports at all levels, and to enhance lives and society by winning kids with sport.
Alden recalls the initial meetings with Dr. McGuire and the excitement building around the new program.
"Several years ago, Dr. McGuire and I were visiting over lunch," Alden recalled. "Rick was discussing motivational opportunities for co-workers, students, teammates, and others. He reminded me that positive reinforcement and encouragement was so much more effective than negativity."
We committed to taking a positive approach to all of our interactions as we proceeded; to be 'demanding, not demeaning.' It's evolved into our culture and is an amazing and effective approach for all of us.

Mike Alden, director of athletics
While the message continues to spread across the University of Missouri, it is Alden and McGuire's goal to also increase the exposure across other schools in the state of Missouri, in addition to across the entire country. For those schools who contact the Missouri Institute for Positive Coaching with the intent to becoming a "Positive Coaching School" and showing their commitment to implementing, modeling and upholding the six principles of positive coaching; that school will then receive a customized positive coaching banner with their school colors and school logo that can be hung inside their gymnasium or athletic venue.
Currently, there are 10 other schools fully enrolled and displaying the "Proud To Be A Positive Coaching School" banner on their campus. An additional 20 schools are actively engaged in completing the process to join the club.
Dr. McGuire and the Missouri Institute for Positive Coaching have big advancements for the program in the near future.